SABnzbd Review
Last Updated: Jun 15, 2019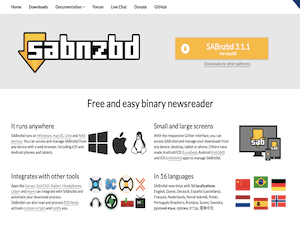 Rating
Price
Free
Retention
500 Days
Free Trial
None
Features
Multi Platform
Lots of Extensions
NZB Downloader Only
SABnzbd is one of the best-known NZB downloaders out there. It's completely free and is packed full of features that allow you to make the most of your USENET access. There's a bit of a learning curve involved, but it's well worth it. The price? Completely free.
Note: The other big option out there is NZBGet, and we compare it with SABnzbd below.
Installation
Installation is remarkably easy. An installer for Windows is available, on Mac OSX there's nothing more involved than putting the .dmg file in your applications, and on Ubuntu Linux, you can use Apt to install the program.
Once you get the install running, you can set up remote access and your servers right from the prompt. It even gives you cosmetic options, allowing you to customize the look and feel of the program.
TIP: Always use SSL. There's a checkbox for that option in your Quick Start wizard.
After the wizard completes the process, it will restart the program and you're good to go.
Using the Program
SABnzbd will run on port 8080 by default. If you're confused, open up your browser and go to localhost: 8080. If the SABnzbd interface doesn't show up, you'll have to do a bit of troubleshooting to figure out what's blocking it, but you can change the port from within the program options.
Once you have it open, your configuration, status and other options are all laid out for you on the page. The settings are available from the config menu. A sampling of the screens is shown below.
Configuration Main Screen
Add a new server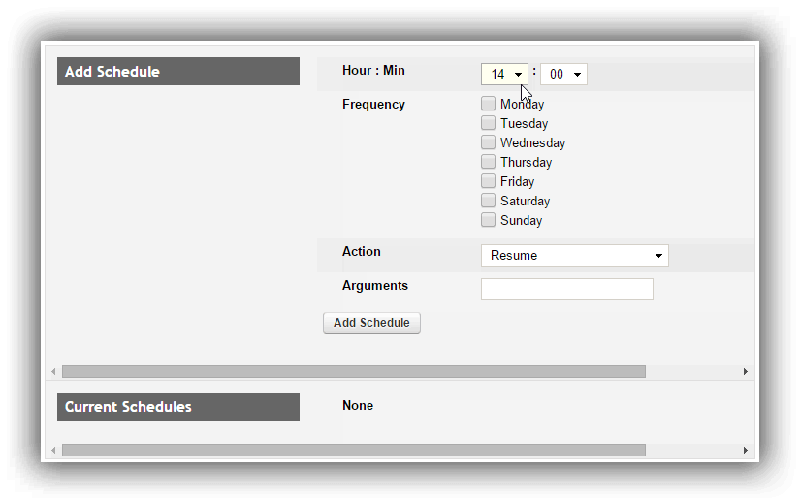 Scheduling NZB Downloads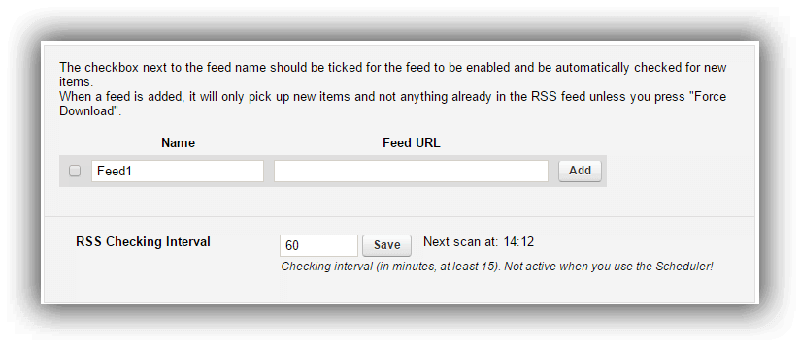 Adding RSS Feed to automate downloading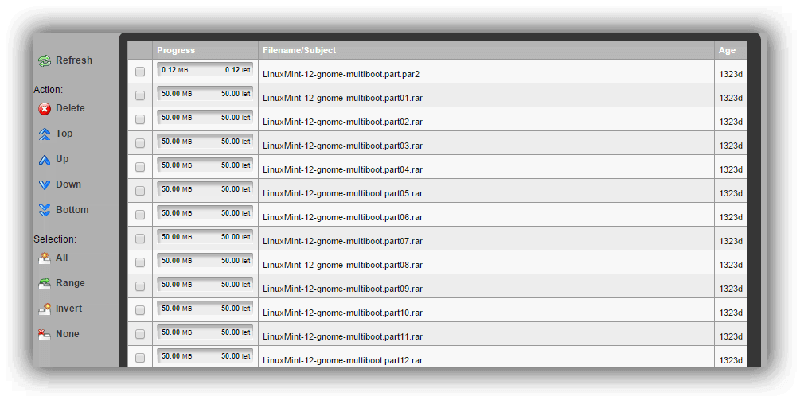 SABnzbd download in progress screen
Technical Details
SABnzbd is written in Python, giving it cross-platform support. It runs on Windows, Mac OSX and Linux. The standout feature with this downloader is the support for automation that's built into it.
SABnzbd has very comprehensive configuration options, all of which are available through the web interface.
SABnzbd Versus NZBGet
NZBGet is another great downloader. It has one important difference with SABnzbd in terms of APIs.
SABnzbd allows for restricted use of API keys, which provides security for the program. NZBGet isn't any less secure, but it handles security differently, via a Username/Password system.
Either downloader is a fine program. Which one works for you will depend upon which security arrangement you prefer or, if you're a complete novice, which option is easier for you to get going with.
If you have a low-power machine, NZBGet might be a better option for you, and some users report that download speeds are a bit faster with NZBGet.
Fans of SABnzbd claim that they get better results streaming on this downloader than they do on NZBGet, but both programs are free, so trying each for yourself is certainly worth the effort.
Summary
SABnzbd is very popular, and for good reason. It's fast, secure and minimally intrusive.
Like many of the other great tools for USENET fans, it's free and supported by a community that constantly improves and upgrades it.
Whether it ends up being your preferred downloader or not, SABnzbd is worth trying, and has consistently been a popular choice for handling NZB files.
Visit SABnzbd
Best Usenet Newsreaders